Cuneo Airport (CUF)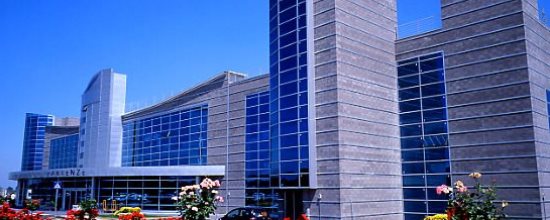 Cuneo Airport
Cuneo-Levaldigi Airport, also known as the International Airport of Torino-Cuneo Levaldigi, managed by GEAC S.p.A., is situated 10 km from Savigliano and 16 km from Cuneo. It is situated in the area of Levaldigi, which is an outlying district of the municipality of Savigliano. It has a runway of 2,104 metres and is open to commercial traffic. In addition, Cuneo Airport is located at just 60 km from Turin and is 40 km from the French border.
Since it is located in north-western Italy and bordering France, Cuneo's impressive views include snow-covered Alps, lakes, and waterfalls. With the Alps in your backyard, high-altitude lakes to explore, and caves and waterfalls to visit, Cuneo is something of a paradise for the outdoors enthusiast. Don't miss the Maritime Alps Natural Park for a glimpse of the magnificent mountain range. Take a hike, go snowboarding, or try cycling around the Alps while gazing at some of the most breath-taking views in Italy. You can also visit some of Cuneo's hidden caves such as the Rio Martino Cave and its spectacular waterfall.

Airport Terminals and Airlines
This single terminal and fully functional airport offers only a handful of operating airlines, catering for a few destinations. These include Air Arabia Maroc with flights to Casablanca, Ernest Airlines with seasonal flights to Tirana and Ryanair with flights to Cagliari. Depending on demand, there are a few more seasonal flights scheduled annually.

Airport Services and Facilities
This airport has a specific hours of operation, due to the low number of flights scheduled. Summer hours are 04.00 AM – 22.00 PM, and winter hours are 05.00 AM – 23.00 PM. Since the airport closes during the night, it is not much preferable to stay there overnight. There are hotels nearby you can explore and get a good night rest before your flight.
The airport is very small and offers only the basic services for the travelers, so besides grabbing a cup of coffee and a snack, there's not much to do here. Hence, if you are on a long layover, it might be a good idea to step out of the airport and explore Cuneo. Cuneo is a town where you can find a lot of specialty shops, factory stores and galleries for music and art. Wine, cheese and especially chocolate are particular specialties of the region, and it is very much worth it to explore a bit beyond the airport itself.
And for a local flavor, Cuneo is famous for the Al Rhum, a dark chocolate meringue with rum filling, but there are also plenty of great gelato parlours and specialty chocolate shops to choose from. Be sure to order a strong Italian coffee to accompany your selection, and enjoy the lively cafe culture of the area. The local specialties of the Cuneo region include a variety of cheeses and cured meats, truffles from the area around Alba, and mains like gnocchi alla bava and risotto with quail. Discover local flavors and specialties at the wealth of traditional Piedmontese restaurants in Cuneo, and if you feel like something different, try one of the typical Italian or international eateries. Each of the food and drink places will be happy to offer you free Wi-Fi and would charge your mobile device.

Ground Transportation
Trains run from Turin and Cuneo to Fossano Station (Trenitalia) every 30 minutes, from where a shuttle bus can be taken to the airport. A shuttle bus (Aerobus) operates between Turin and Cuneo Airport, which coincides with flight arrivals and departures. The shuttle stop is found in front of the Turin Lingotto Station and in the Airport bus area (CTL Lombardia). Another shuttle for the airport also leaves from Fossano Station.
In addition to this public transportation option (or perhaps paying for a taxi service), you can also book a reliable door-to-door private transportation with UpTransfers, carried out with a modern fleet of fully licensed and insured vehicles, and be welcomed at the airport by an English-speaking driver - an excellent choice for traveling with style. It is also an excellent way to arrange for a daily visit to Cuneo and make a great visit day out of your long layover. Book your reliable, low-cost, door-to-door Cuneo Airport transfer to hotels, holiday villas, holiday apartments or private addresses. The transfers are carried out with a modern fleet of fully licensed and insured taxis, minivans, minibuses and coaches. Your driver will take you from the train station right to your accommodation address and back to the train station in comfort and safety, at the lowest price.
PLEASE NOTE:
- upon arrival at Cuneo Airport please look for your driver, who will hold a personal waiting sign with your name on it
- if you did not pay in advance for your taxi transfer, please pay to the driver with the local currency
Available destinations from Cuneo Airport (CUF)